We Offer:
Edit Yourself
Easily modify your web site yourself using a Word-style interface.

Easy Upload
Upload your own images, documents, and more with our simple interface.

Fast Support
Being a small company means we get back to you with support in a timely fashion.
Random Project Highlight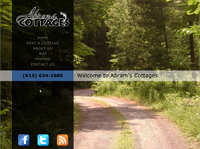 Abrams Cottages is a cabin rental business located on Desert Lake, off of Canoe Lake Road, north of Sydenham, Ontario. In the future, they will be adding online cabin booking, a rental waiting list,...
[more]
Not Found
The page you requested was not found.